Discussion Starter
•
#1
•
Hello fellow Subaru Owners and Enthusiasts.
I am organizing a meet and cruise around the hills and valleys of my hometown and neighboring towns. I have been to many meets throughout my time on NASIOC and have a lot of fun. Most people would rather go for a nice cruise in their cars with fellow car lovers then to spend a day standing in a parking lot.
I am fortunate to live and have grown up in a beautiful area of West Virginia. I have thought many time about organizing a cruise through the area. It is already extremely popular with tourists and motorcyclists. So here is the game plan
Date: Sunday May 20th 2012
Time: 12:30 in the afternoon till ?
Meeting Place: Kerrs Shell/Auto Parts/Hardware 29124 SR 55 Wardensville WV 26851
Departing time: around 1:00
Directions from the Winchester and points north area:
Take I-81 South to Strasburg Virginia Exit 296 (which is second Strasburg exit) You will see the signs for Wardensville, turn RIGHT at top of ramp and follow 55 for approx 19 miles, Shell station will be on your LEFT. It has a car wash beside it with a red and white 55 Chevy on it.
You can also come rt50/259 into town from Winchester, if you need directions that way feel free to PM me.
Game Plan: Meet up in Wardensville, gas up if needed get drinks etc. Head through town to Corridor H which is a 4 lane divided highway about 2 miles from meeting point. We will then head up to the Clifton Hollow overlook and park for a few. We will pass over the Clifton Hollow Bridge which is 300 feet about the forest floor. There is a large parking lot beside it with trails leading to the top of the hill for photo ops. From there we will continue on Corridor H for a mile or so and take Cunningham Lane a small unmarked back road into Moorefield West Virgnia. We will grab lunch there if that is what everyone wants to do. There are several fast food, family resturants and places to eat there including Chinese, Italian, Mexican and Country Cooking.
From Moorefield we will take Old Route 55 which is the road that the Corridor replaced back to Wardensville. It has plenty of up hill down hill twists and turns. It is a fun little road to play on, no tail of the dragon but fun anyway.
The total trip from Wardensville is about 60 miles roundtrip. Depending on time and feedback from participants we may take in some other local sights.
Budding photographers bring your cameras there are plenty of nice mountain views to take pics of.
Clifford Hollow Bridge, view from scenic overlook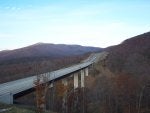 Lost River Bridge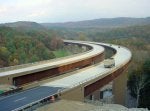 Short stretch of road overlooking mountains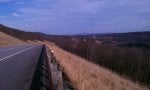 I have already posted this up on NASIOC and wvsubarus, and have several people coming. The more the merrier, would love to get some Clubwrx members.