Hey guys,
My name is Greg and I am a new member here. I have visited this site periodically over the last few years. I currently own a 2011 wrx sedan in DGM. The car as it sits right now is TP stage 3. I started out with subaru in 2007 with an impreza 2.5i sedan. I owned that car for two years and did some simple modding. In august 2009 I traded it in for a 2009 jeep wrangler......I know I know. In july 2011 I grew tired of the wrangler and wanted to get back into a subaru. I ended up going with a 2011 wrx sedan in DGM that I purchased from Cityside subaru in belmont, MA.
Here is the current mod list:
Engine:
Cobb accessport
TurboXS catted downpipe
TurboXS front mount intercooler
TurboXS cold air intake
Perrin tubo inlet
Grimmspeed 3 port EBCS
GReddy Type-S BPV
Deatschwerks 65C fuel pump
NGK 1 step colder spark plugs
Custom Silicone Re-circulation Tube
Transmission
Cobb shorth throw shifter
Cobb front poly shifter bushing
Cobb rear poly shifter bushing
Brakes
Subaru 4 Pot front calipers
Subaru 2 Pot rear calipers
StopTech high performance front and rear pads
Centric Premium rear rotor from 2010 Legacy Gt
KNS rear caliper adapter plates
Gauges
AEM UEGO wide band
AEM digital boost gauge
Interior
Subaru Momo shift knob
AccessPort holding device
Exterior
35% tint all around
Rally Armor Mudflaps
Black Vinyl overlay on the front air dam
Clear Bra thing
Grimmspeed license plate relocation kit
I will be updating this list as time goes on
Brand new pic i took of it at the gym!!!
In august when the car had 300 miles on it I flashed it to stage 1 after reading all the horror stories of the factory tune. Wow it made such a difference!! That same month I purchased a set of Rally armor mud flaps and a cobb short throw shifter and poly bushings front and rear, let the modding begin!! Window tint(35% all around) came next. I had the windows tinted at Knights in Franklin, MA for all you locals who are looking for a good tint job.
The car sat like that for about six months and then the mod bug bit me again. This time it was way worse
I ordered a cobb catted downpipe in february 2012 and flashed the car to stage 2....all I have to say is WOW!!! It didnt stop there. My factory BPV started leaking and I went with an original GReddy type s BOV that I ran recirculated for a few months. During this time I installed a Perrin turbo inlet. Up next a TurboXS FMIC and CAI. With that order I also got a DW65C fuel pump, NGK 1 step colder plugs, and a grimmspeed 3 port EBCS. All of the parts arrived and I scheduled my Pro tune. A few pics of the parts going on
During the install of the FMIC i noticed a dent on the bottom of the core, needless to say I freaked out. I got on the phone with tom from Spun Auto sports and left him a message at 930 pm. He called me back at 945!!! awesome vendor. We began working out a solution. It was determined that the bumper would cover it and the dent does not effect the performance of the intercooler. We settled on 100 bucks back in my paypal account. I can not say enough about Tom and his Customer Service. He is awesome.
All the parts went on without further incident and the pro tune came to be. Video for all you guys!!
Dyno sheet!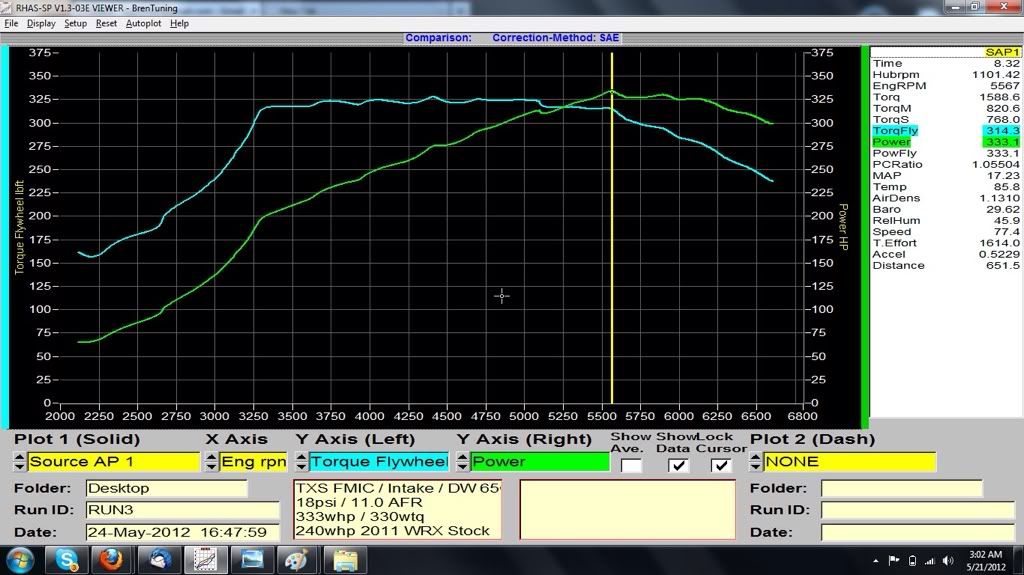 Okay now for the bad news..... My car hated the tune and it didnt work out. Unfortunately the tuner tried to fix it but ended up turning his back on me. It was pulling almost 3* of timing at WOT under full boost....every time and the car was falling on its face. not to mention I was scared to drive it. the tuner kept telling me it was fine and that it was no big deal. Well I disagree. Any knock event that causes the car to pull that timing and make it fall on its face WOT under full boost is not okay. Many attempts were made to correct the issue but he ended up just making the tune worse. It would not reach target boost at 19.5 psi and every revision he made brought the boost table lower. It was boosting stage one levels by the time he was done "correcting it" and it was still pulling timing. I sent the logs discreetly to four top name tuners who all stated it was not normal. I brought it to his attention and he was rude and told me it was normal and I was obsessing over nothing. I got in touch with Eric at TP and he took on the challenge gracefully. I am currently in the process of finishing up the e-tune with him now. It shouldnt be long until it is complete.
Now for a bunch of random pictures of the car for your viewing pleasure!!!
I had a body shop clean up the lines on the bumper after I hacked it to make the FMIC fit and lay a piece of black vinyl over the flat part of the air dam
and now for a picture of my dog because he is awesome!!!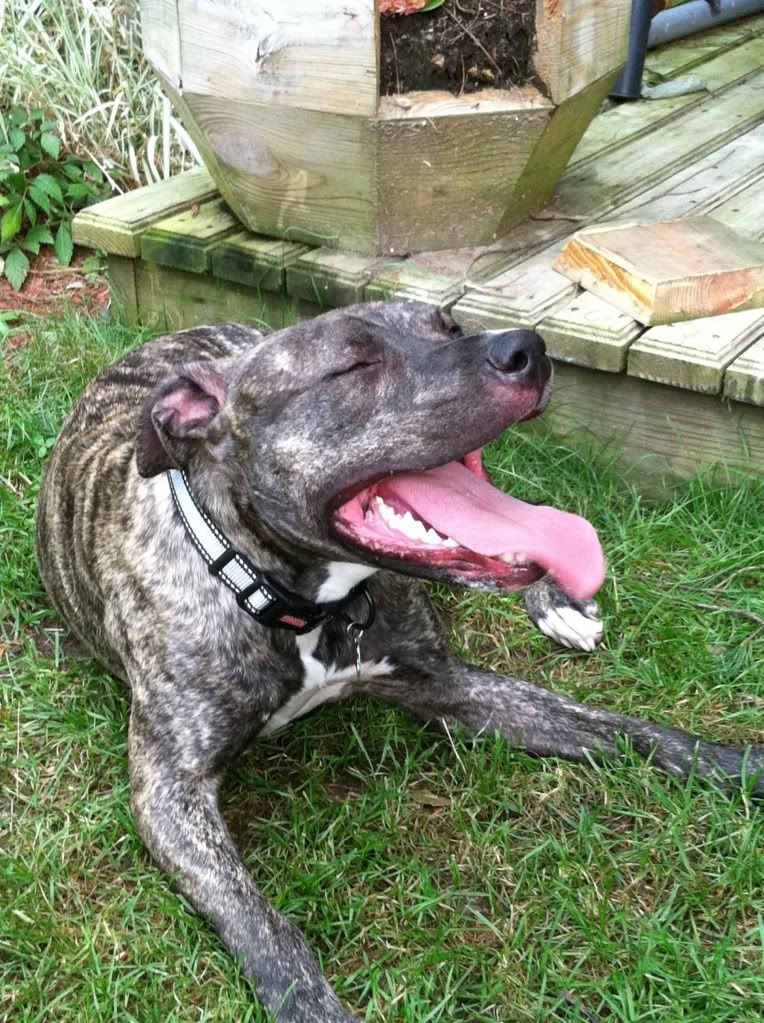 I hope you guys enjoyed the pics and story of my build and I will be updating this thread periodically as I do more things to the car. Im sure a built short block is on the way as the car is on borrowed time at 20 psi !! Any questions or input would be great. I am well versed in the mechanical aspect of working on these cars. I planned this mild build over a period of about six months after researching many aspects of the wrx platform. I will be starting on suspension mods next now that the power part is out of the way.
also I am going to start taking pictures step by step of the installs of everything I put on the car and post write ups for everyone that would like to see the process for each install. I hope to be a good contributor to this forum and you will see NO FLAMING from me.
Thanks guys!!!
Greg