·
Super Moderator (Actually a SuperSpy)
Discussion Starter
•
#1
•
The mods are too many to list! What an incredible machine though. These people are heroes!
He took an STi v9, wisely threw away the boxer engine (if only Subaru would follow suit...), gutted the gearbox and fitted PPG gears, threw away the diffs (again, if only Subaru would follow suit...) and fitted Cuscos.
Then he sourced a straight 5 engine with a 20V head from a rare Quattro. He took the Subaru floor, cut it to fit the Quattro body in "Sport Quattro" SWB proportions, and mated them together (if you look at the windscreen you can tell it's not from an authentic Sport Quattro because the Sport used the nose from an Audi 80 which has a more upright windscreen -- this is a bit of a shame because the nearly vertical windscreen really adds to the Sport Quattro mystique and his windscreen is too angled or raked back, like an Ur Quattro instead of a Sport Quattro).
He took the throttle body from a Mitsubishi 4G63 (I hope he threw away the rest of that car; Mitsubishi themselves have actually followed suit in this case...) and used a MoTec to run it.
Amazing work.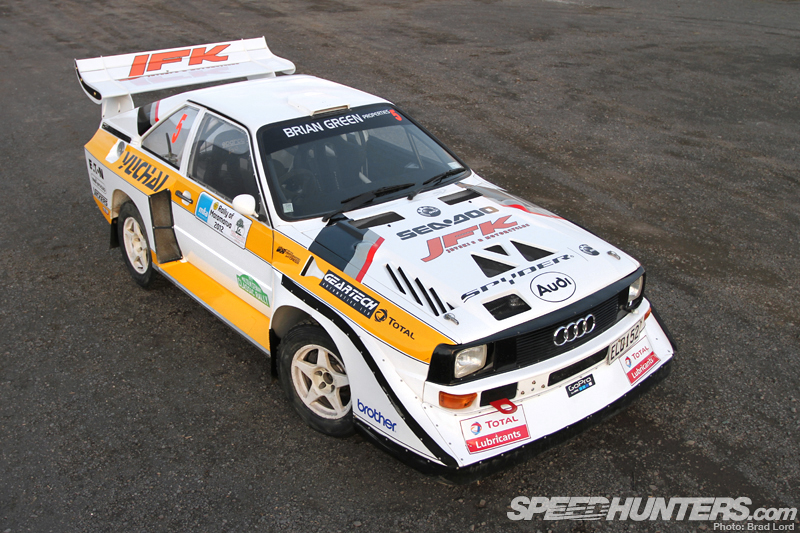 The 1980s are remembered for a lot of things, but in the motorsport world those years represent the golden era of rallying. Group B took the World Rally Championship and turned it on its head. In matter of just a few short years factory-backed cars had doubled their power output and were packed...
www.speedhunters.com