Discussion Starter
·
#1
·
Hey all,
I just got home from my latest craigslist deal, bought a 2003 WRX. Let's do some pics first.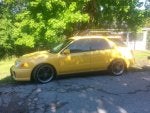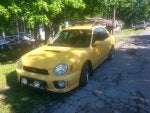 Its got 260k miles on the odo, engine is newer with only about 38k. Stage 2 turbo. Catback straight piped. It has been lowered a bit. Seems to be in great shape and is very clean. It was over my budget, but I just couldn't resist. I drive a '02 Outback otherwise, and had always wanted a WRX. I also always wanted a yellow car haha! I'm not a newbie to doing my own car work, having done head gaskets on my Outback myself (youtube walk throughs!), and many other lesser jobs, but am definitely a newbie to more performance-oriented car stuff. Like I don't particularly know what stage 2 turbo means in this case. Its got a Cobb tuning access port, I'll have to learn all about that I guess. It came with the stock muffler, if I put that back on does it have to be re-tuned? I'm also wondering how to go about "un-lowering" it, and would it be beneficial to lift it past stock at the same time? I am an outdoor sports enthusiast so lots of gravel & dirt roads for me. I got the suspension inspected at a shop, that guy told me it was lowered the "correct" way with the springs, but if I wanted to lift it back it would probably need new struts.
I'll definitely be doing a lot of searching and reading, if anybody has some particular favorite resources they'd like to share to get me started that'd be great. Is there any particular difference between this forum and nasioc? I'm also looking for a repair manual.
Glad to be a WRX owner! Thanks so much,
Marc