Discussion Starter
•
#1
•
Hey all-
Just picked up my WR Blue 2009 WRX Hatch from a private seller out in Indiana. It was surprising difficult to find [clean] examples of Subarus, but now that the search and all of the paperwork is taken care of, I could not be more happy with my purchase. I think I managed to pick it up for a pretty decent steal, given that it came with a fairly extensive list of aftermarket parts, all of the factory parts that had been replaced, and a second set of wheels and brand new snow tires. (Pictured on the car) I am definitely very new to owning a vehicle such as this, but am very much looking forward to exploring the forums and learning as much as I can from everyone's experiences.
So heres how the car came to me:
Cosmetically-
Black Sport Grill on the front
De-Badged
Tinted brake lights
Tinted Windows
Rally Armor Mud Flaps... Look Amazing IMO!
Performance Wise-
SPT Sway Bars
Kartboy Short-Throw shifter
Perrin Shifter Bushings
Engine / Engine Management-
AEM Intake
Invidia Exhaust
Walbro 255 Pump
Cobb AP Stage 2 @ 93 Octane... This is the only part of the deal that had me a little skeptical as we're all aware of what can go wrong if things have not been done correctly...
As far as I can tell though, everything has been done correctly. Everything is clean and looks good and matches up to what the internets tell me I need for this type of tune, at least to my uneducated understanding. The seller told me he has been running on stage 2 for about 10,000 miles now (She has just under 44,000 on her now) and it really does drive, accelerate, idle, and run very smoothly. Gas mileage, at least according to the car, is right around 26mpg with a mix of highway, around town, and sporadic playful acceleration so everything seems in very good order.
The only question I have is: Is there a way to find out exactly what type of tune is mapped on the car? The seller said he used a Torque Performance Tune... Does anyone have any experience with them? It seems just fine to me, but I'd love to hear someone else say it...
FYI, I obvioulsy have the Cobb AP along with the newest MSD Dash Hawk that I have mounted on the steering column...
Here are some pictures I took this morning since we have some sun...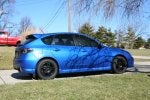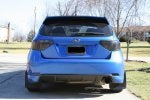 Anyways, thanks for any information and I'm looking forward to learning from all of you soon!