Discussion Starter
·
#1
·
After researching modification paths for my 2013 WRX sedan for a few months, the other day I purchased a Cobb AccessPort and flashed one of their stage 1 maps. I drove for a full tank, took a couple datalogs, and I'm worried that I may be underboosting. The question is: if so, how much? And should I be worried about a possible boost leak? My hope is that some of you out there with more experience might be able to take a look at the data and offer some advice.
Here's the run-down:
* 2013 WRX
* Cobb SF Intake (with Airbox), no other mods
* Map: OTS Cobb 91 Octane Stage 1 + SF Intake
The target boost for that map is 17 PSI, but the most I've ever logged is 14.65 PSI. I hear that the 17 PSI target really has a standard variation of +/- 1 PSI, but I seem to be missing the target by more than that.
Here are two graphs I produced from my datalogging session. Both were 3rd gear pulls.
Datalog 6:
Datalog 7:
Here are links to both full datalogs that those graphs came from:
https://drive.google.com/open?id=0B4kTO_uCLNVlSmowSThTSVlmX1k
https://drive.google.com/open?id=0B4kTO_uCLNVlUE9rdVYzb3k4QTg
That said, I think this section of the first pull in datalog 6 sums it up pretty well: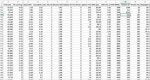 You can see that TD Boost Error never falls below 2 throughout the whole 3-4.5k RPM spectrum (WOT was hit at roughly 3.3k RPMs).
With this map, the highest peak boost I ever saw was about 14.7 PSI -- and that's peak boost... the typical level of sustained boost is more like 13.5 PSI. I should note that I also tried flashing the HWG version of Cobb's 91 Octane Stage 1 + SF Intake map. With the HWG map, I once saw peak boost hit 15.06 PSI (but never again). Using the HWG version might have helped slightly, but it still seems to me that I'm falling well short of the target.... and the fact that I continue to do so on the HWG map has me concerned that there might be a boost leak.
So... what do you guys think? Should I be content squeaking 14.7 PSI peak boost out of a Stage 1 + SF OTS Cobb map on 91 Octane? Or do I have good reason to be suspicious about a possible boost leak, since I'm still not touching that 17 PSI target?
Thanks for your input!