Discussion Starter
·
#1
·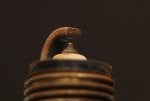 Every 30K miles or so ny 2002 wrx gives a P030x code and I have always been able to fix it by replacing the plugs, until now.
This time after replacing the plugs, the car still gives the P0302 code, along with vibration and loss of power. Actually it alternates between this error condition and driving fine at random.
Does the fact that it sometimes drives fine eliminates some possible causes mentioned in the misfire code sticky thread?
I attached photos of plug #2. Does it tell anything useful?