Being bored at work i decided to make a diagram for the hybrid boost control system i will be using on my car. Hallman MBC and the GM 3 port EBCS. I like making diagrams because it helps me understand things and so when i go to install its a quick reference sheet, hope this can help someone else out.
If you dont know what your doing or install this and do not tune for it you may be asking your mother for a ride to work..
I went with the GM 3 port instead of something like Grimmspeed because of the cost. Note that the input/output locations of the MBC and EBCS are NOT the same for every brand boost controller.
GM EBCS ports
Port 1- Silver-goes into compressor housing/turbo/high pressure and T's off into input of MBC
Port 2- Black- next to port 3- to wastegate actuator and T's to output of MBC
Port 3- Black WITH filter-next to port 2, goes to intake/turbo inlet. This is the way i would suggest and am using. There other ways to route this like capping/leaving filter on to vent to atmosphere.
I turned down the MBC all the way and slowly did pulls, each time turning up the boost until i got around target.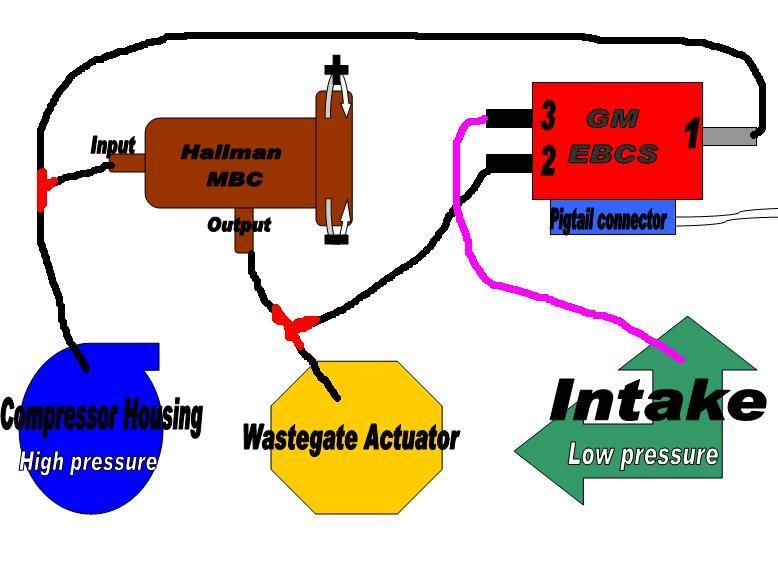 Very helpful links i used
http://www.clubwrx.net/forums/tunin...t-2-turbocharger-101-basic-boost-control.html
new hybrid mbc/ebc method of boost control - NASIOC
Full DIY: GM solenoid install (56k warning) - NASIOC
Boost Control Tech > By Jeff PERRIN - Subaru Impreza WRX STI Forums: IWSTI.com