Took out my center vents this weekend and put my boost gauge and oil pressure gauge there. Cost around $17 for everything. I made the holder out of plexiglass and wrapped in fake but almost real carbon fiber vinyl.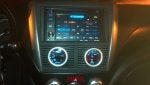 If anyone is interested in how I made it I took plenty of pictures while making it. I'd be more than happy to share them. Think I will put my A/F gauge in my driver side vent next.
I also removed all the crap from the trunk and added the SPT carbon fiber trunk trim piece. Looks so much cleaner now.