2002 Midnight Black Pearl Impreza WRX.
It has 98,XXX miles. Most mileage is light highway miles.
It has been properly maintained, all oil changes done at or before 3,000 miles (castrol syntec 5w30)
Inspected till 08/08, Passes PA state emissions and safety inspection without a problem.
I love this car and it has treated me very well. It's never broken down on me, and runs smooth and strong.
I'm looking to get $13,000 OBO.
E-mail:
[email protected]
Car is located in Bucks County PA.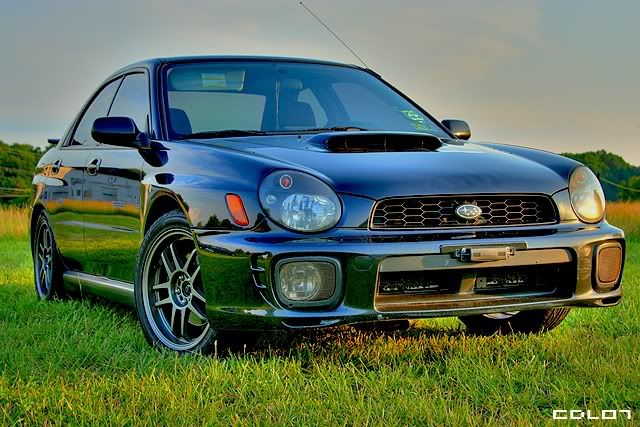 I will provide VIN upon request.
It has a clean car fax.
It's gotten the 100k mile tune up (1/3/08), including but not limited to the following:
New timing belt
New tensioner
New thermostat
New waterpump
New Serpentine belt
New Spark Plugs
05 WRX tranny w/ 9k miles
05 Front Axles w/ 9k miles
Features:
Engine-
IHI VF30 turbo
STI pink injectors
Walboro fuel pump
Cobb Accessport v1 w/ Cobb vf30 Map
Unorthodox Racing pullies
APS BOV/BPV
APS Up-Pipe
APS Down-Pipe
APS 3" Exhaust
APS Cold Air Intake (not installed-Short Ram Intake for FMIC is installed)
NGK (1 step colder) Spark Plugs
SS Autochrome Front Mount Intercooler
SS Autochrome headers (Will Include stock headers)
Trasmission-
05 WRX 5MT Tranny w/ 9k Miles
05 WRX Front Axles w/9k miles
Cobb Short throw shifter
Kartboy Shift Knob
Suspension/Wheels-
Eibach sport springs (1.5" drop)
STI (Replica) upper front strut bar
STI (Replica) Upper rear strut bar
Megan Racing H brace
16" Stock wheels painted gold w/ winter tiers (will get the tire brand)
Brembo Blanks(New as of 7/07)
Hawk HPS Pads (New as of 7/07)
Interior-
OEM carbon fiber dash
MadDaddy Boost gauge
MadDaddy Oil pressure gauge*
MadDaddy EGT gauge*
OEM clock pod
Apexi Turbo timer
Alpine cd/mp3/xm radio head unit (i will get the exact model number)
Alpine 6 disc changer
Infinity speakers and tweeters (front and rear doors)
Infinity powered sub (trunk)
JL rear deck speakers
JL amp
XM radio
Viper remote pager 2 way alarm
Exterior-
Koji style headlights
Blinking side markers
Mesh fog light covers
15% Tint all around
If there are any questions please don't hesitate to contact me.
E-mail:
[email protected]
Thanks.