Finally completed VF34 install on my 02 WRX. It took me total 7 hours to complete turbo and injectors because of some of the minor problems I encountered along the install.
1. Stud came off of uppipe flange which took me 2 hours to fix it.
2. I completely forgot to remove blue and green connectors after reflashing the ECU. Took me an hour to figure this out. :lol:
Tools you need:
10, 12, 14, 17mm sockets with long extension
3/8", 1/2" ratchet
Air tool, impact gun or breaker bar
PB BLASTER
Rubber caps to seal coolant hoses
Nitrile goves if available
plier
can of brake cleaner
Here are some instructions that you may find useful. Sorry about some of poor quality pictures. I didn't realize that until it was too late.
Please see my injector install thread for a method on removing intercooler and airbox.
http://forums.nasioc.com/forums/showthread.php?t=964852&page=2
There are five 14mm bolts you have to remove as shown here (spray generously with PB blaster a few hours before the install). These bolts hold downpipe and turbo together. Two 14mm bolts are hidden below the downpipe.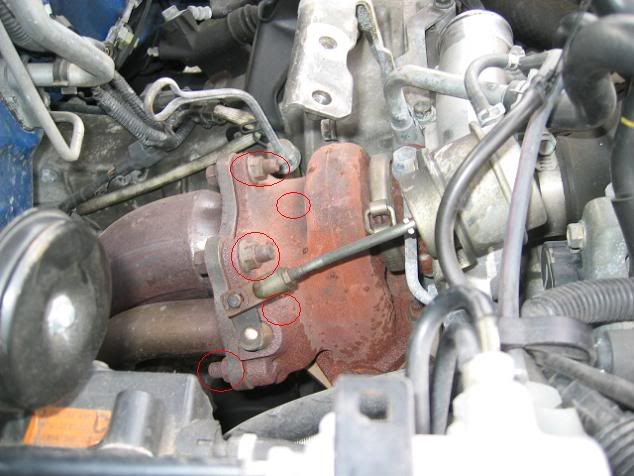 Downpipe unbolted from turbo:
Remove intercooler bracket as shown here. Two 12mm bolts.
Unbolt this 10mm clamp on turbo inlet.
Remove T-hose as circled in RED (sorry.. no close up picture)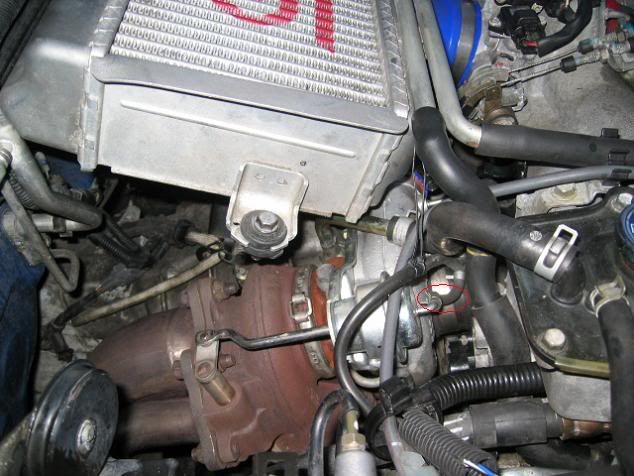 Turbo install was done without using a jackstand. You can do it by simply unmounting exhaust hanger to allow TBE to move backward.
Remove 14mm oil inlet bolt on top of turbo and bend hard oil line away from the turbo. Be careful not to snap the line.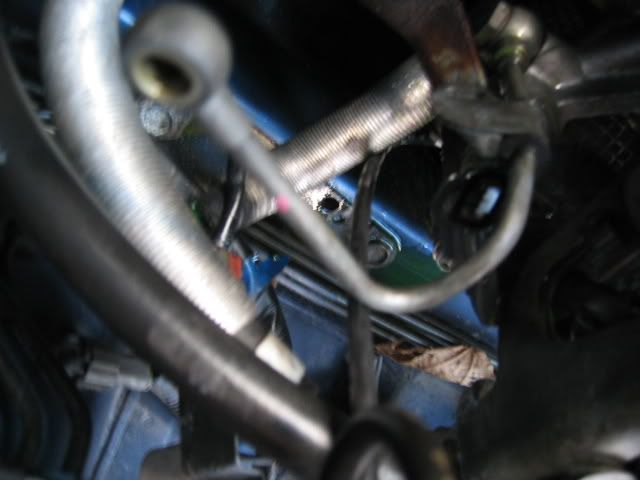 Another picture of bent hard oil line: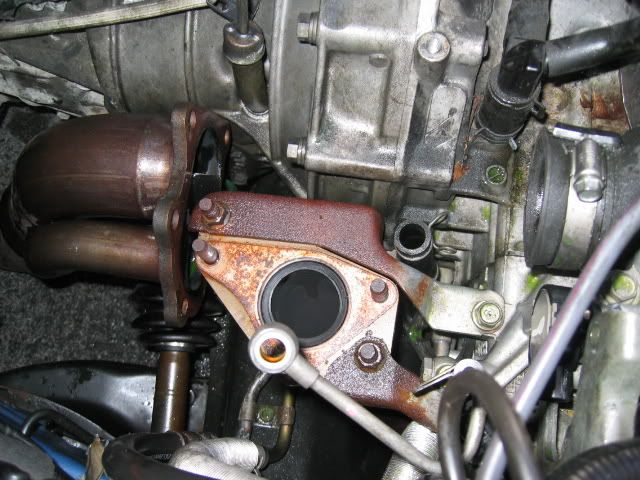 Remove 3 14mm bolts that hold turbo against uppipe flange. Shown below is the one located closet to downpipe. One on left needs to be removed.