My latest project: Painting fender badges.
There are two things I don't understand.
1) Why ANYONE in their right mind would pay 70USD for two pieces of plastic
2) Why everyone on youtube seems to think that you should remove your sideskirt and fender to remove your badges. This is just stupid, and is asking to break more stuff.
The badges are taped on with double sided tape. There is a plastic peg on each end to ensure the badge is centered. It can be removed within 10 minutes by using fishing line or maybe even floss.
1) Do the job on a hot day, or use a hair dryer to heat everything up. No need to go overboard though, just get everything nice and warm.
2) Put some masking tape around your emblem to make doubly sure you won't scratch your paint. I wanted to do this but couldn't, because I had just finished waxing my car and the tape wouldn't stick lol
3) Loop a piece of floss under the front tip of the badge
4) Work it back and forth a bit, but be sure to not be holding the floss/fishing line to close to the paint. You don't want to put grooves in your paint accidentally. Hold the floss so it comes out from behind the badge perpendicular to your car. Use common sense. Note that there is a peg on each side. I recommended starting on the side closest to the front of the car, because the "peg" is smaller and easier to jump the floss/fishing line over in order to keep moving forward
5) Once you've made about 1cm of progress in lifting the badge off, put something under it to keep it slightly lifted off your car and start re-heating the adhesive that you can now see with the hair dryer. Once it's warm, pull the badge off a bit and use an exacto knife to start cutting adhesive (this is optional - BE VERY CAREFUL IF USING IT. Pretend you're playing operation. DO NOT RUSH, DO NOT SCRATCH YOUR PAINT)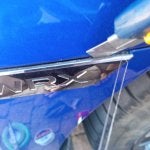 6) If you get your adhesive warm enough, you can probably get away without the exacto knife but this helps ensure that you don't break the badge by needing to pull too aggressively.
7) Take your time, and alternate between gently pulling, warming and cutting until you've worked the whole badge off.
Once you've gotten both badges off, it is time to prep them and paint.
In the Mazda world, I learned that the best way to paint chrome'd plastic is to strip the chrome finish by placing the badge in a bleach bath for ~1 day. This eats the chrome right off, and allows you to get maximum adherence. Google it if you want to go this route.
Since I want to use the same paint on my headlights and want to know how well it WILL stick to chrome, I decided to skip this step and just apply the paint directly. Will update the OP later on with info on durability.
8) Wash badges in soap and water
9) Hit them with 4-6 light coats of some sort of plastic paint of your choice. I used Krylon dual superbond (gloss black) in lieu of Krylon fusion because it was on sale for crazy cheap and seemed like it would do just as good a job (just with a slightly longer drying time)
10) Wait for base coat to be completely cured (or use a compatible paint) and paint the letters, carefully by hand. Or pay $10 for vinyl inlays if you failed kindergarten.
11) Done.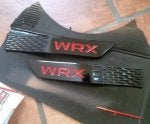 12) Once fully dry, reinstall with fresh double sided tape if the original stuff was removed or isn't sticky enough.
Spend the $70USD (or 100CAD) you saved on something that's not a waste of money.
Be sure to post if this helps you out