So my friend is going to pick my WRX from NY when it comes in... he wouldn't take any money so I offered to detail and opti-coat his car. He finally agreed to it. I got the car here and he had just washed it so it didn't look to bad, especially for a 7 year old car that has never been polished out. The problem where we live is town water. I cannot express the hate that I have for this water. It spots so horribily. So I look at the car at first glance and see the common marring and such... no big deal. Then I look a little closer and see the EXTREME water etching and I knew I would have to take a different approach.
There are multiple wax/sealant strippers out there, I opted to use plain old dawn dish detergent. I loaded up the foam gun... soaked the car down and washed it all up. The first wash took a good hour or so. I refoamed the whole car, got out the clay and started over. Each panel was clayed and then washed again to remove any residue. All door jams, under the side skirts, etc were all clayed. Total wash time wash a little over 4 and a half hours. The car was blown dry and I could see from the water that there was little to no wax left.. which didn't matter much since the whole car was going to be polished and then get an IPA wipedown.
I pulled it into the garage and this is what was ahead of me.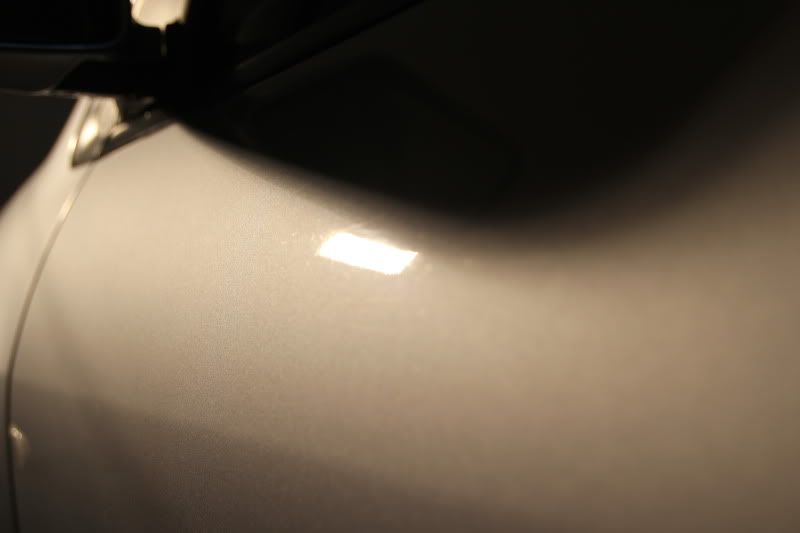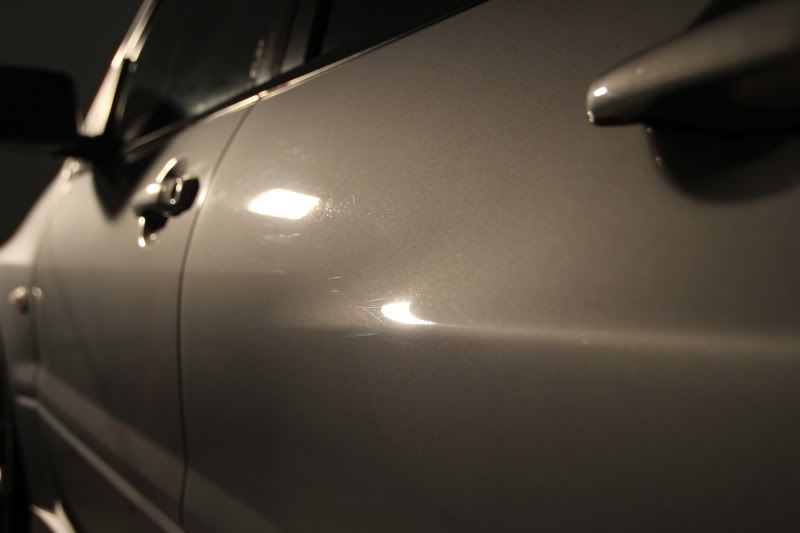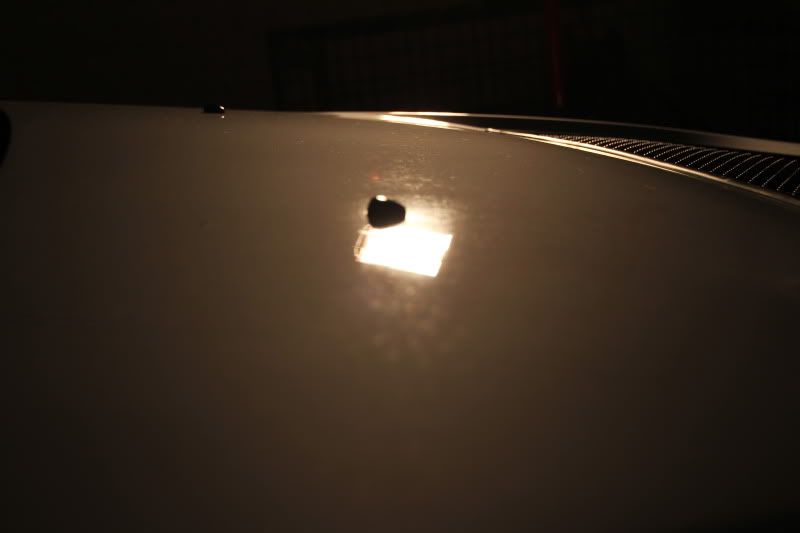 So now you see the extreme water etching I was going to have to deal with... hard to pick up on silver, but trust me when I tell you it was ALL over the car. This is also a garage kept car, that's the worst part about it. I had my Flex DA polisher as well as my Meguiars red pads and Menzerna polishes. I tried the super intensive polish which is a medium cut compound, and while it cleaned and polished the paint, the spots were still there, I had to move to something much more extreme. Menzerna's power gloss, which is a very heavy cutting compound. The hood had to have 2 passes done, the sides did ok with one, a few areas required 2 as well. (i'm updating this as I go... we have a VERY slow connection here).
The pics where you see where the doors are still marred are just where I am showing the section in front of it. I didn't have any blue tape to do a 50/50 shot to show the differences.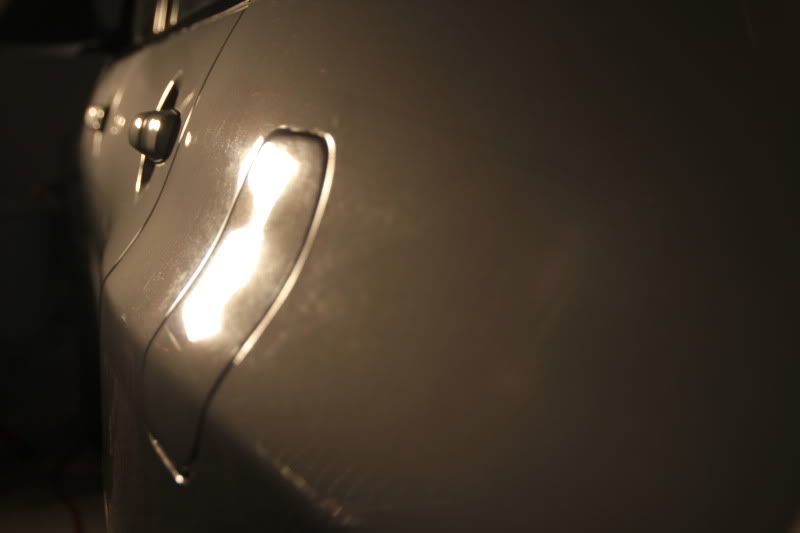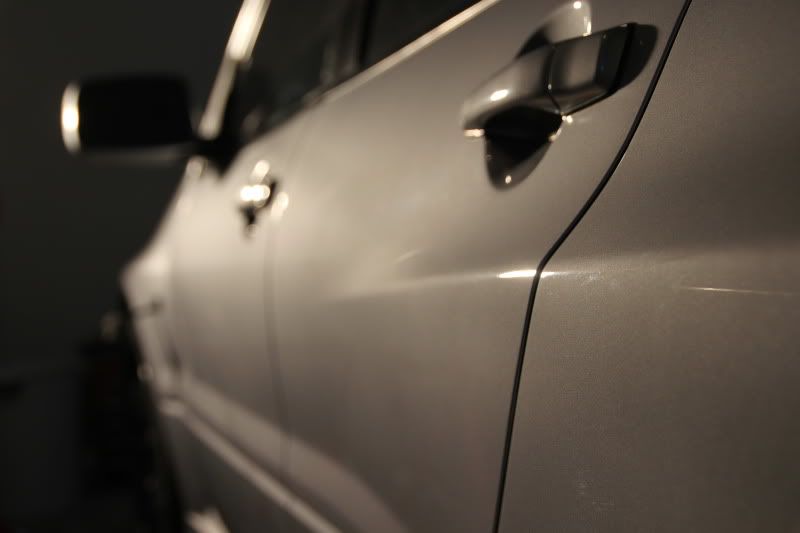 Sorry about some of these shots... they are in no particular order, but i'm trying to arrange them as best I can.
Now it was on to the second step of correction with the Super intensive polish. This is a good polish that can be used just by itself and then your wax or sealant over it, or as part of a 2 or 3 stage correction. My favorite polish out of all of them actually.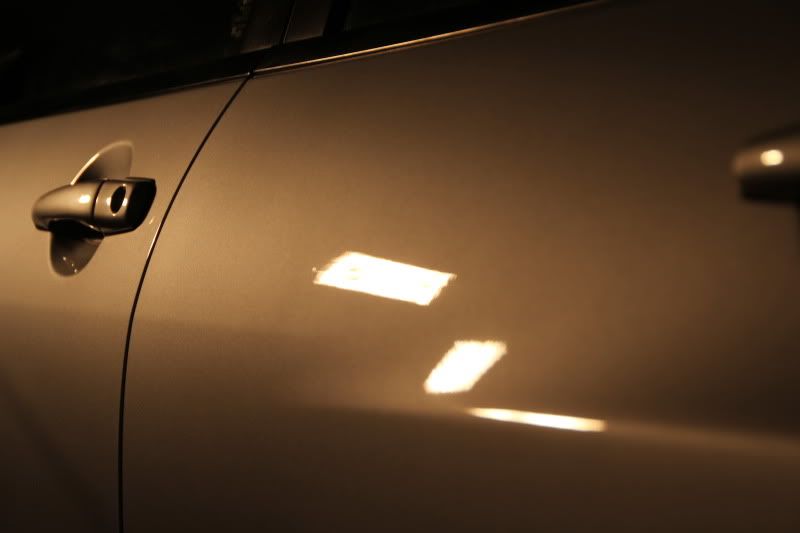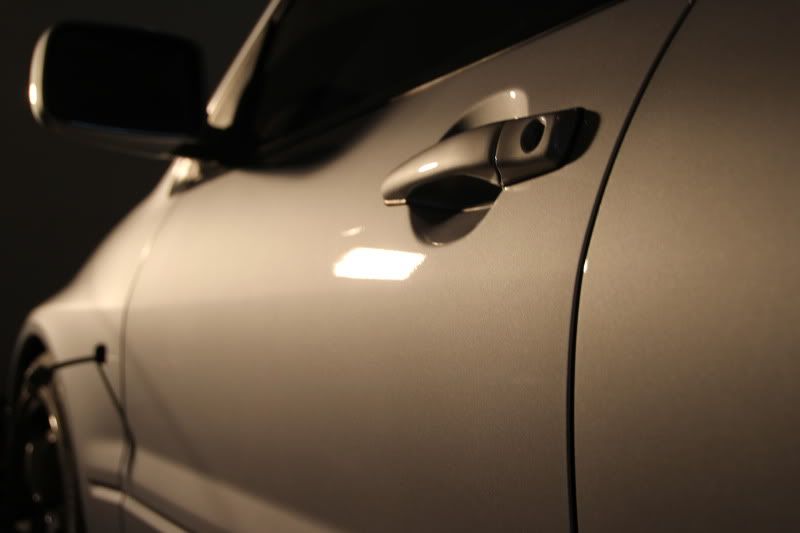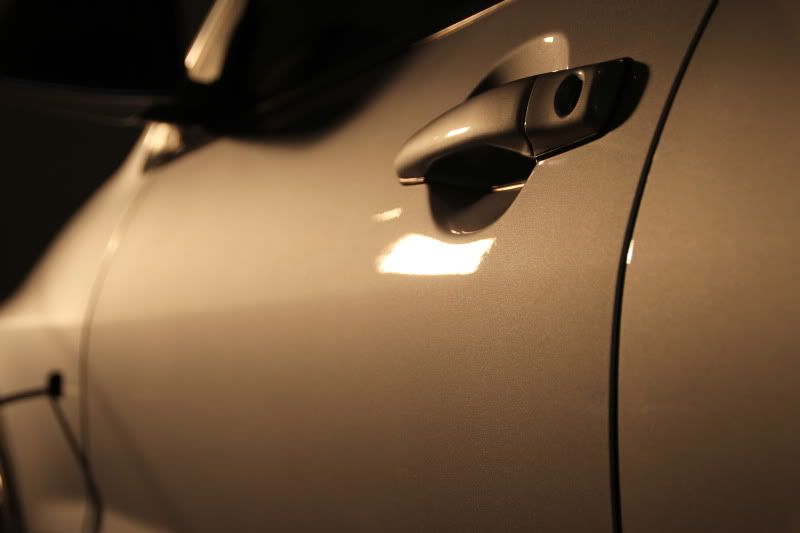 little daylight on the back to show the reflection...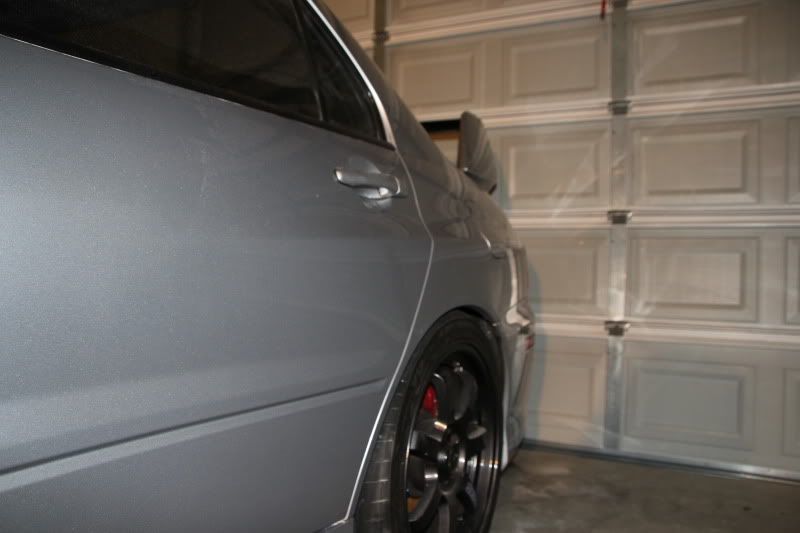 I'm not going to show all of the pics of the other side because it will just take up more space than needed, but it's basically the exact same thing. Here are 2 pics of the completed polishing .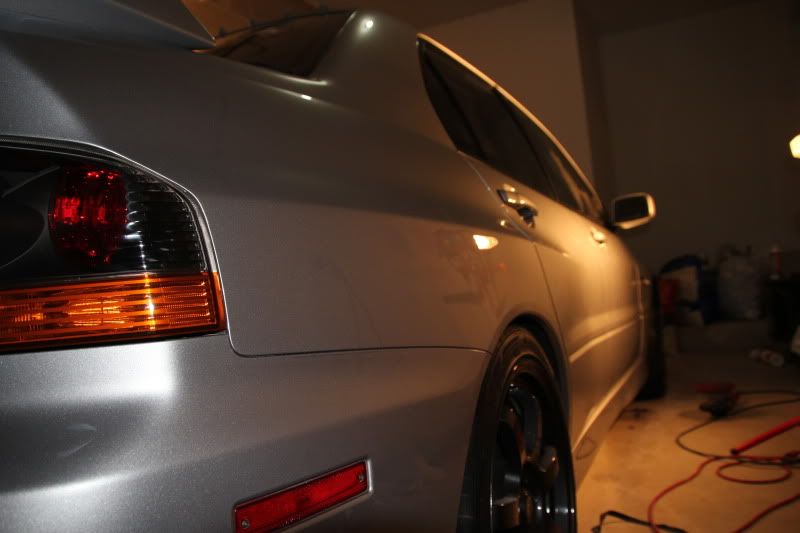 The headlights were pretty beat up since the car now has over 100,000 miles on it so obviously sand, bugs, rocks had all chipped these things up. The following shots are of the headlights before, then after being wetsanded with 1000 grit paper, powergloss, and then super intensive polish. They came out pretty good... I wasn't totally happy with them, but without really going low on the paper grit and taking a lot of plastic off, they came out about as good as they were going to get.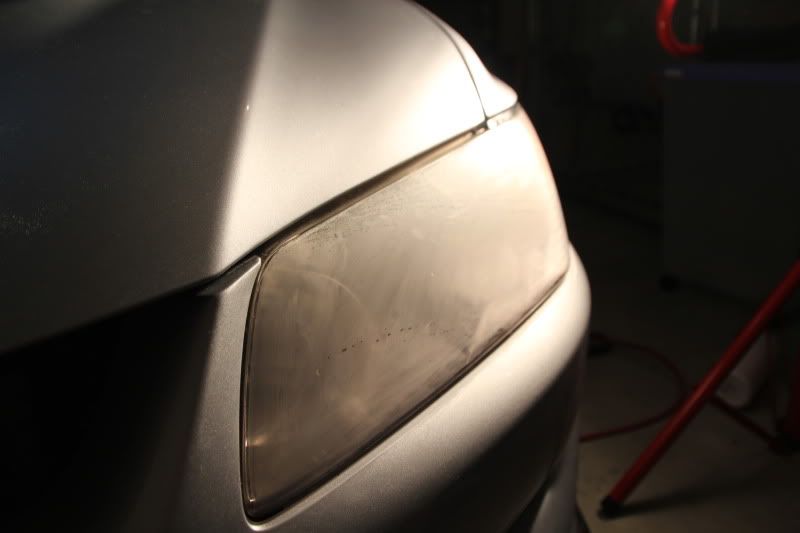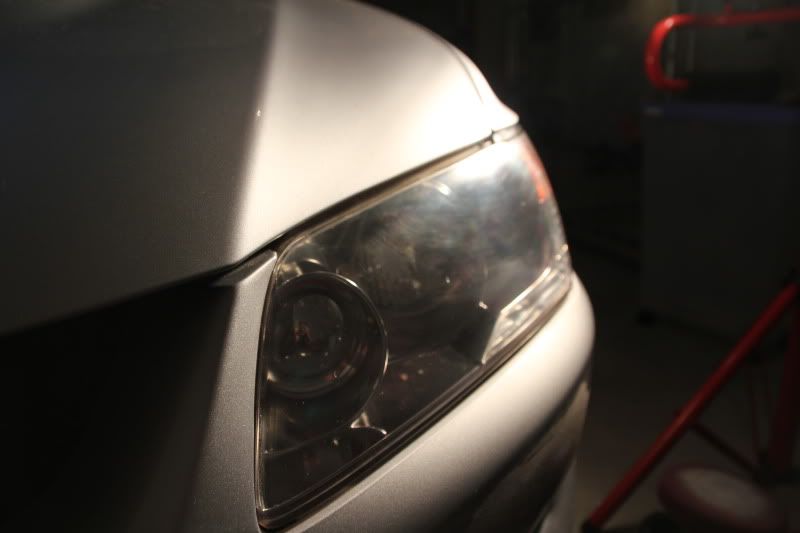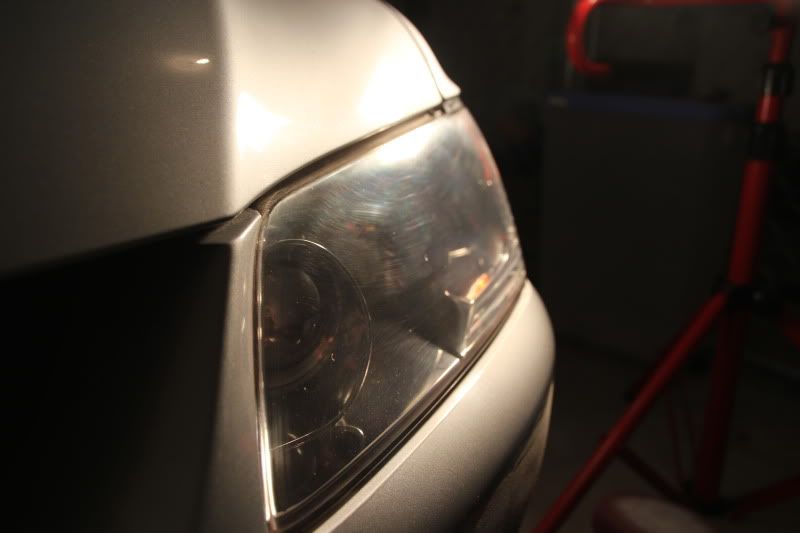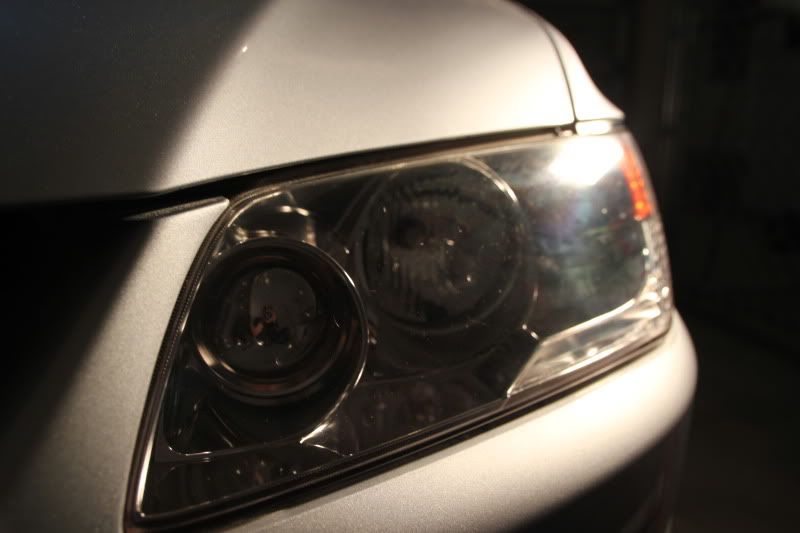 other light was a little less beat up..
Opti-coat added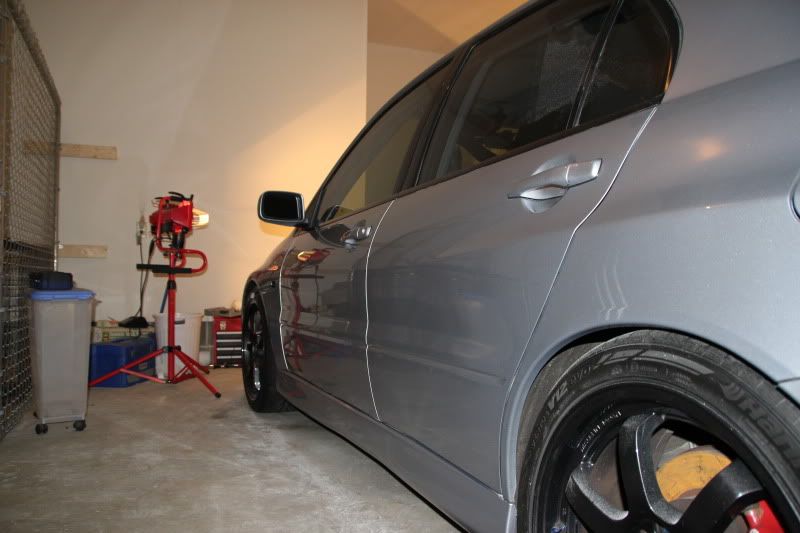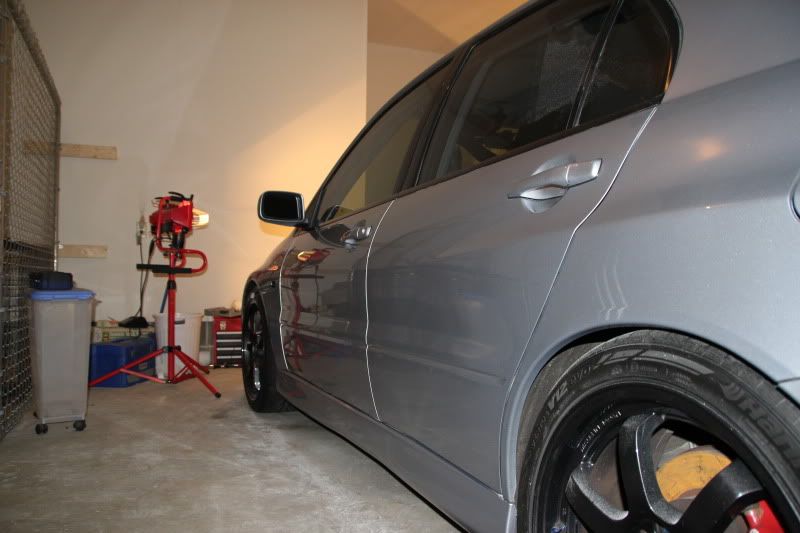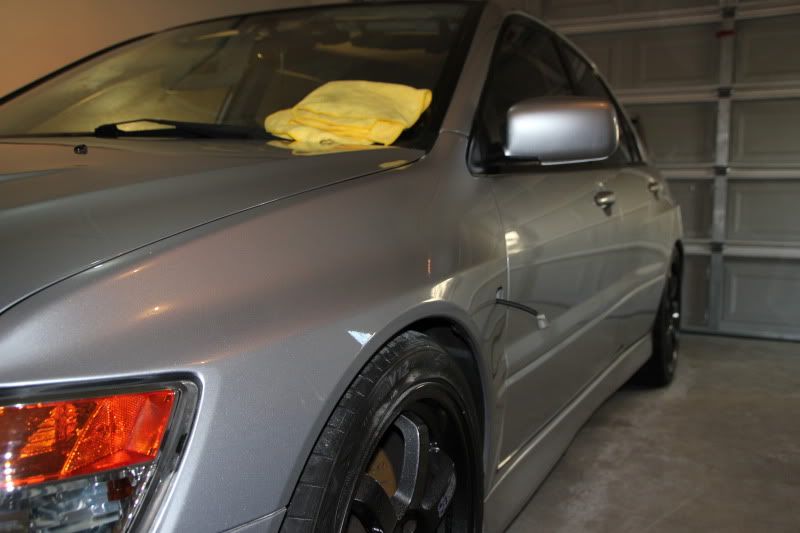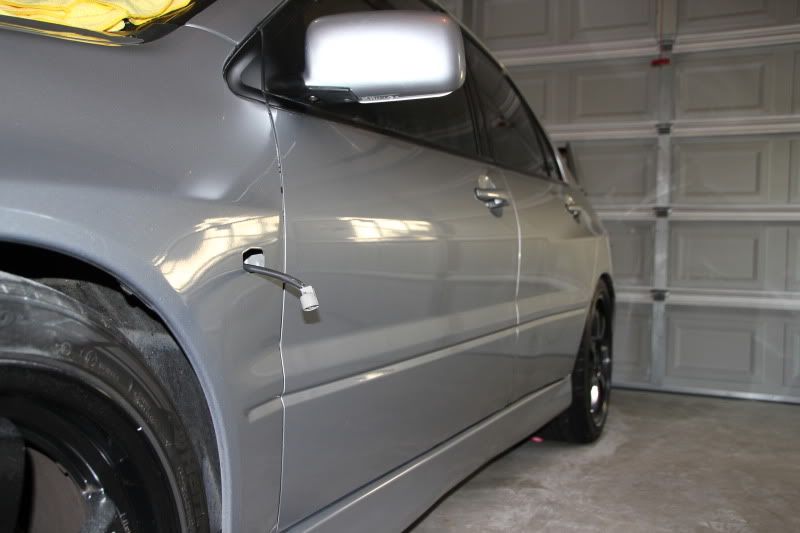 and outside after blowing polishing dust and such off the car....