Discussion Starter
·
#1
·
Scroll down for modifications and pics ...
Many thanks to those who nominated my 2004 WRX. I never thought it that special, but a few of you seem to. I love the fact the side skirts were never painted.
I was mostly a WRX n00b when I bought it new on 3/30/2004. I had read an article about the then new WRX and the SPT go fast bits available for it on RoadandTrack.com some time before I bought the WRX. Thinking this was the path to the ultimate WRX handling package I had the dealer install the SPT suspension bits mentioned as part of the financed purchase price within a week of taking delivery.
Added at that time were 17" x 7" OZ Superleggeras with 225/45 Goodyear Eagle F1 GS-D3. Thought I had perfect handling all wrapped up. It turns out I was not even close. Don't believe everything you read in automotive magazines.
In 2004 Subaru gave you a free one year membership to the SCCA when you bought a WRX. About a year later I finally joined up. After starting to autocross the WRX the shortcomings of the setup started to become obvious.
5 years later and after a total of 7 sway bars, 4 sets of springs, 4 sets of struts, 2 sets of front camber plates and 4 different brands / models of tires I finally have the WRX right where I want it for a perfect balance between daily driver and autocross toy.
The engine mod path has been a relatively slow but steady one starting with Cobb stage 1 back in July 2004. Over the years I think I have found the perfect tune and components for daily driver and autocross toy. The engine mods have bumped me into SM, so I will not be competitive in autocross in that class. Just as well as I am not a very competitive or overly talented driver.
As the WRX is now 18+ years old, it has been retired from autocross as I want to keep it running a least a few more relatively trouble free more years.
Once again a thousand thanks for the recognition.
How to safely clean an engine bay My modification list:



2004 Impreza WRX Sedan in Platinum Silver Metallic 5 speed manual transmission.



Estimated HP:

A trip to a real dyno is long overdue.

Virtual Dyno

1.2.7 average of 4 WOT runs as of April 2015: 284 awhp, 273 awdtq

Engine/Transmission modifications:

Tactrix Open Port 2.0 Stage 2+ 93 octane 21 psi maximum boost.

Wideband oxygen sensor with

Innovate Motorsports LC-1 controller

.

Perrin Pro Series electronic boost control solenoid.

APS 65 mm cold air intake. AEM 21-2037D-HK DryFlow Air Filter with AEM 1-4007 air filter wrap

.

Perrin black silicone turbo inlet hose.

Cobb black silicone post MAF hose

Deatchwerks 650cc fuel injectors.

Walbro 255lph fuel pump.

GrimmSpeed TGV deletes.

Process West top mount intercooler

, silicone Y pipe, silicone throttle body hose and splitter.

Crawford Air Oil Separator. Blouch TD04 19T

.

Cobb stainless steel turbo heat shield

.

Thermo-Tec custom made turbo wrap

.

Perrin uppipe.

Donkey'd exhaust mains and OEM crossover

(ported, polished and ceramic coated).

Cobb turbo back exhaust

with high flow catalytic converter.

Lathe Werks alternator shroud.

Koyo R2704 all aluminum radiator.

Perrin lightened crank pulley

.

NGK Iridium BKR6EIX spark plugs.

Kartboy short throw shifter with front / rear Kartboy bushings.

GroupN pitch rod.

GroupN transmission mount.

Kartboy crossmember bushings.

2 quarts Redline 75-90W NS Synthetic / ~1.6 quarts Redline Synthetic Lightweight Shockproof in the gearbox.

Redline 75-90W Synthetic in the rear differential.

Suspension/Wheel modifications: Öhlins fixed perch struts

.

Whiteline Com C front strut mounts

.

Racecomp Engineering yellow springs.

GroupN rear top hats.

Aluminum control arms

.

Perrin front 25mm solid front sway bar on stiff setting.

"Big Sky" custom front endlinks

.

Hotchkis 25mm hollow rear sway bar on medium setting

Poltec spherical bearing rear end links and Poltec collars.

Whiteline steering rack bushings.

Rear camber bolts.

-1.8 degrees of camber up front, -1.5 camber rear / 0 toe all around, ~4 degrees of caster.

Hawk HP Plus brake pads.

DBA Series 4000 rotors.

Russell stainless steel brake lines.

ATE amber DOT4 brake fluid.

Summer shoes:

17" x 8" OZ Alleggerita with Michelin Pilot Super Sport 225/45/17

Winter shoes: 17" x 7" OZ Superleggeras with Dunlop SP Winter Sport 3D 225/45/17

Interior/Exterior/Accessories: Lathe Werks acetal copolymer custom sized teardrop shift knob.

OEM boost gauge.

S U B A R U

trunk logo removed.

Narva H1 48334 Rangepower 50 bulbs for low beams.
Toshiba 9011 HIR-1 bulbs for high beams

.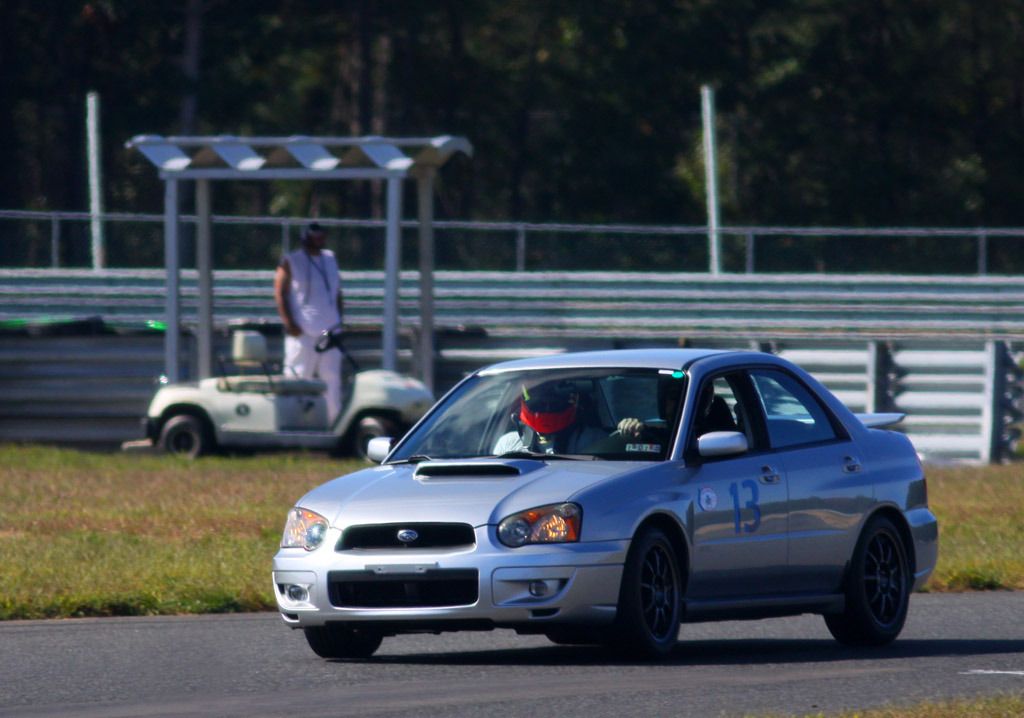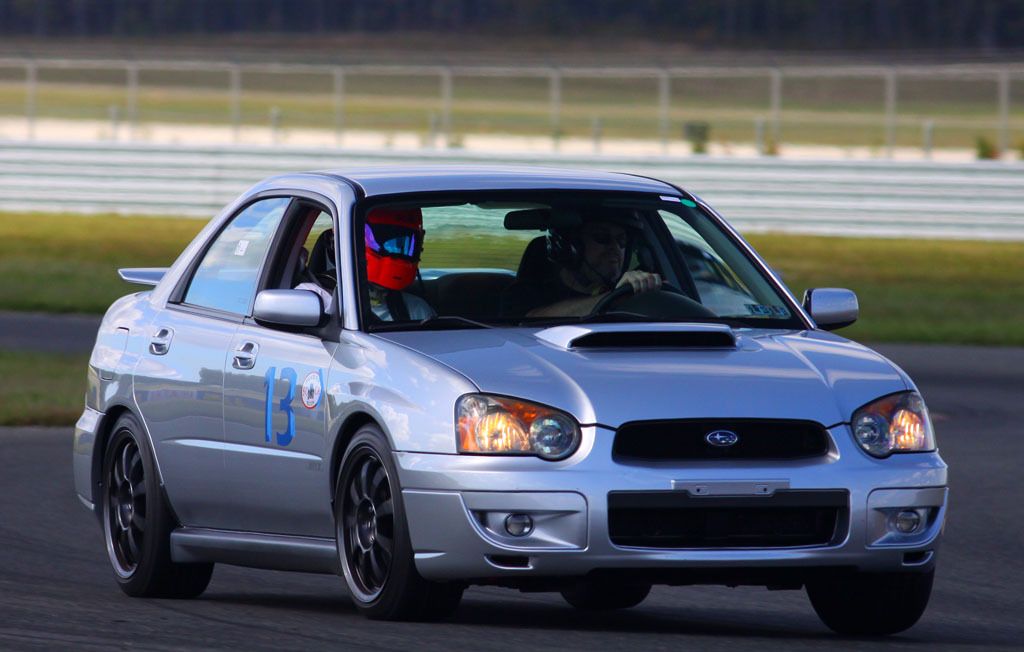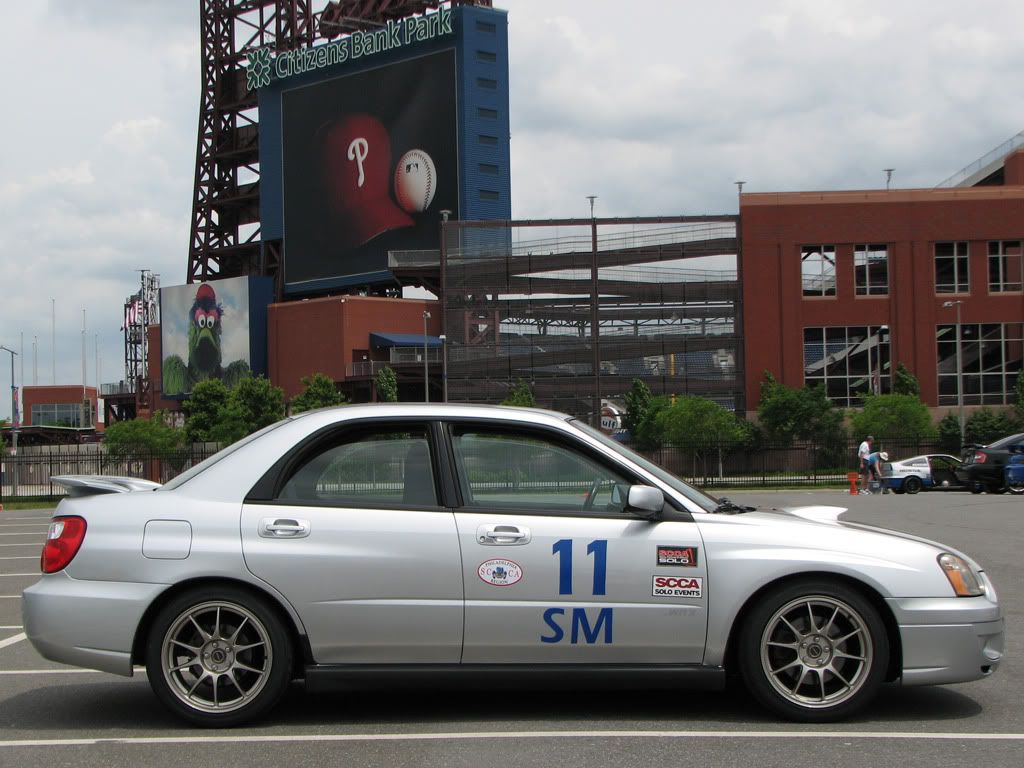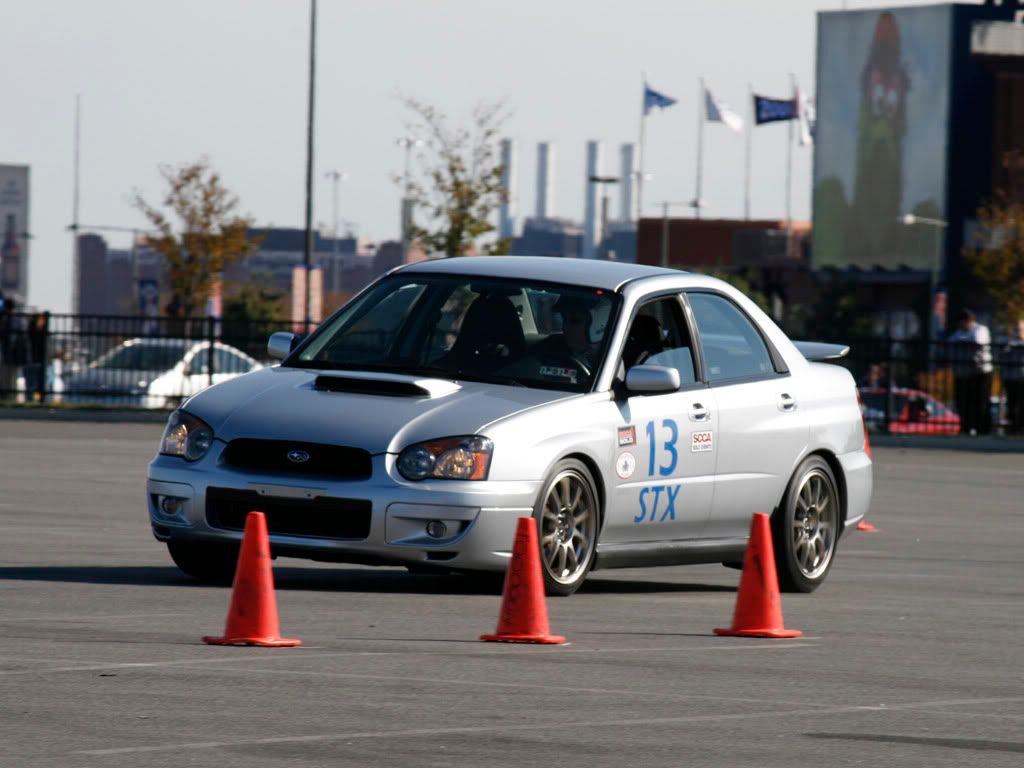 This image below depicts the WRX before I had my current suspension setup. There was a lot more body roll then. The struts and springs were v7 STi, and a wimpy 19mm front sway bar. The newer autocross images with the WRX in SM class and track day pics (#13, no letters) show the current setup. BIG difference.