Hello Everyone! :wave:
I have recently been receiving a lot of private messages about my recent install of an
Alpine iLX-107
head unit into my 2011 Subaru WRX Premium Hatchback. The question that most people are asking me is about the Steering Wheel Control unit, Microbypass Ebrake unit, & the overall functionality of the installation since this part can get confusing.......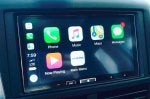 SO
I decided to offer the best kind of write up for any sorts of questions that you may all have.
First off before you do any sort of electrical work in your vehicle please make sure to disconnect the battery to prevent any damage or harm. You will need two additional components when installing this unit as it will make your installation/functionality a lot better. These items would be,
1.
Universal Trigger AX-MTR
(Microbypass)
2.
Universal Fit ASWC-1
(Steering Wheel Control Unit)
(DEPENDING ON THE VEHICLE) - My mounting kit for the head unit is made by
American International - SBK926
which is offered in the [2009-2013 Forester] [2008-2011 Impreza] [2008-2014 Impreza WRX]
I personally would recommend only sticking with the company "Axxess Integrate" as they have perfected these types of units and for the cost point almost are the same to third party products on Amazon. The Axxess Integrate website also comes with installation manuals + videos on how to program, install, and wire the units into your "
SPECIFIC VEHICLE
". You usually can find these products being sold in your local Automotive Audio store depending where you live. Axxess Integrate offers a easy to use website that is extremely helpful because they inform you which head units are automatically programmed by the Steering Wheel Control unit by the manufacture and model. They also offer a phone number you can call Monday - Friday to ask for over the phone help if you get stuck.
Another really good source of information is going to be Crutchfield. I ordered my Alpine iLX-107 unit from them and there website made ordering the housing a piece of cake. One benefit of ordering the unit online from them is that you can call anytime you need a reference and since they subscribe to this all exclusive database for every car manufacture, they can pull up all the wiring manuals with photos to assist when facing a problem. The following images below are from Crutchfield.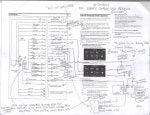 A. Aftermarket Microphone that comes with the Alpine iLX-107 Unit
[THIS IS FOR PREMIUM/LIMITED WRX ONLY]
If you are planning to splice into the OEM microphone in the Premium and Limited editions of the WRX`s/STi then let this be your warning. Hypothetically it could be done and I went all the way as to doing this but the OEM microphone requires a 5 volt signal because it has an amplifier built in; the Alpine iLX-107 unit is not looking for an amplified connection. Thus this would over amplify the signal when talking in the vehicle and distort the sound or clip the signal. I will still provide the documentation of how we determined this below. I ended up installing the aftermarket microphone into my 2011 Subaru WRX Premium Hatchback and it was actually very easy to wire down because of this following thread.
how-replace-bluetooth-mic-factory-location-wrx-08
<---- You will see my post with photos on how I went about doing this at the thread previously provided.
B. Universal Fit ASWC-1
The following image below is a right up of the pin connector that you will be splicing into for soldering the connections on the Universal Fit ASWC-1 which allows your Steering Wheel Controls to work with the Alpine iLX-107 unit. Alpine units are automatically detected/Subaru control units which makes this a breeze after installing the Universal Fit ASWC-1.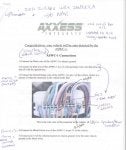 C. Universal Trigger AX-MTR
The image below is a right up of the pin connector that you will be splicing into for soldering the connections on the Universal Trigger AX-MTR which allows your Alpine iLX-107 unit to be tricked into believing that you have the Ebrake on. Also provided below is where the end of the Ebrake connection from the under the center console comes out which will save you time and effort pulling that apart to trace it back.
DO NOT BELIEVE THE THREADS ABOUT SIMILAR UNITS ALLOWING YOU TO GROUND THIS CONNECTION ANYWHERE TO TRICK IT. YOU WILL NEED THIS Universal Trigger AX-MTR DEVICE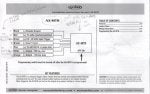 The cable if you choose to not purchase a Universal Trigger AX-MTR will be located under the body integrated unit right side of the steering column.