Alexa - Diary of a Little Red Wagon (2010 STi)
So I recently purchased something of a unicorn -- a red 2010 STi hatchback. Not the rarest of cars, but you don't see a whole ton of them around. I've owned and loved a 2003 wagon for the last 5 years now, but as that car is now over 200k miles and definitely starting to show her age, I decided to search for a new toy. I looked for a long, long time to find one that fit my requirements -- stock, hatch, low miles, and in a color other than black or DGM.
Finally, in January, I had narrowed down my search to the one I thought I was going to take home... a white 2009 STi hatch with gold '07 BBS wheels and 50k miles. It was a bit of a whirlwind affair, seeing as how I was in Japan for two weeks on a ski trip with a couple buddies, then returning to the states only to fly to Phoenix less than 24 hours after arriving home for a work trip. I was planning on purchasing the car in Phoenix and driving it back home to Colorado (it is absurdly hard to find a clean WRX or STI in CO that isn't priced to the moon). So the whole time I was out of the country I was using the limited WiFi in our hostel to try to communicate with the dealer and with my uncle, who lives in Phoenix and was helping me check out the car.
Long story short, the dealer ended up being a real pain to work with right about the time that I saw a beautiful red hatch pop up on Craigslist in the nearby area. 2010 with 43,000 miles for the same price as the white one I was looking at. A week of phone calls in between 16 hr work days and I got a ride to nearby Prescott Valley to purchase my STi.
I was pretty stoked. 43,300 miles on the clock, single owner, owned by a doctor's wife who teared up a bit as we finalized the deal. The car was completely stock except for an SPT catback, but came with a few uninstalled OEM Subaru goodies also -- sport grille, SPT heatshield, and armrest extension.
Mod list, then pics! :woocow:
-------------------------------------------------------------------------------------------------------------------------------------------------
Engine / Power
Invidia high-flow catted downpipe with 2 bungs
S̶u̶b̶a̶r̶u̶ ̶S̶P̶T̶ ̶c̶a̶t̶b̶a̶c̶k̶
I̶n̶v̶i̶d̶i̶a̶ ̶Q̶3̶0̶0̶ ̶c̶a̶t̶b̶a̶c̶k̶
Tomei Expreme Ti catback
Cobb SF Intake w/box
Grimmspeed 3 Port EBCS
SPT Heatshield
PTP Lava turbo blanket
Fuel line extension to help the "GR Stumble"
Protuned by CamTuning to ~310whp
Suspension
Eibach 25mm adjustable front swaybar (set full soft)
Eibach 22mm adjustable rear swaybar (set full hard)
Kartboy endlinks front and rear
Drivetrain
Kartboy short shifter
Kartboy shifter bushings F&R
Kartboy pitch stop mount
Subaru Group-N transmission mount
Whiteline positive shift kit (transmission crossmember bushings)
Interior
Valentine 1 radar detector
OEM footwell illumination kit
Subaru armrest extension
Subaru all-weather floor mats
Custom seat bolstering mod (driver's side)
Dipped shifter trim flat black
Audio
JVC head unit w/bluetooth
JL Audio W3 10'' subwoofer in Audio Integrations box
JL Audio 400w amp
Exterior
Light (~35%ish) tint all around
5% tint windshield brow
Subaru sport grille w/STi badge
Completely debadged rear end
Subaru OEM crossbars
RockyMounts bike racks
Yakima ski rack
Lamin-X yellow foglight overlays
Lamin-X gunsmoke taillight overlays
Fog light surrounds dipped black
OEM '10 STi wheels 18x8.5 with Yokohama high-performance all-season tires 245-45-18 (summer)
OEM '07 STi BBS goldies 17x7.5 with Bridgestone Blizzaks 225/45/R17 (winter)
ASA 17x7 wheels with 235/45/17 Hankook Ventus RS-3 tires (race wheels)
-------------------------------------------------------------------------------------------------------------------------------------------------
Here we are in the parking lot right after finalizing the deal. I was still a bit in shock after finally being handed the keys to my very own STi and my proud mom taking my photo with my phone.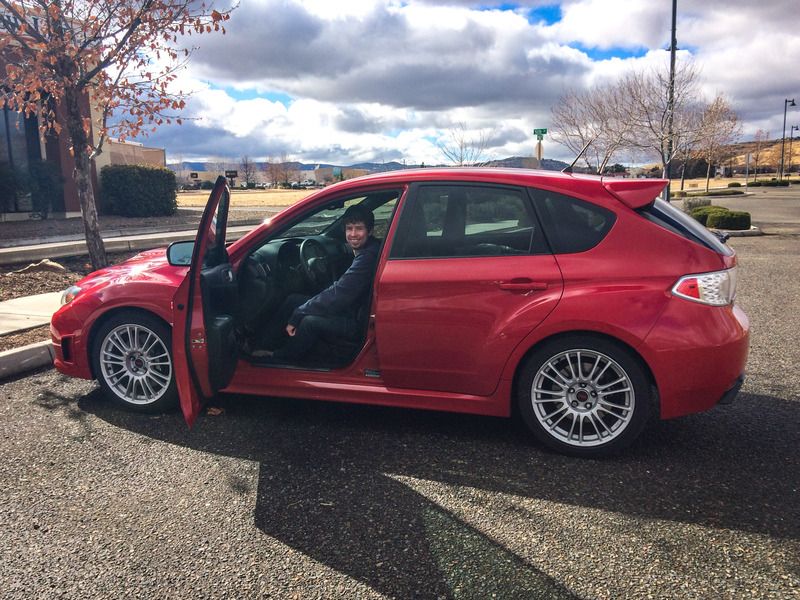 Wow. So stock. Such red. Much potential.
And then getting used to the new baby on the 8 hour drive to take her home.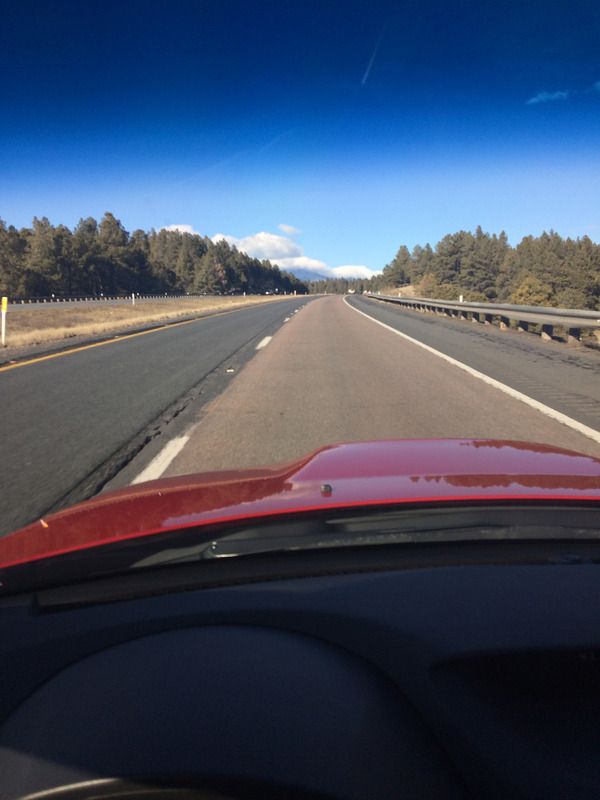 Then the modding began! I wanted to purchase a stock car not because I wanted to own a stock car, but because I wanted a clean slate to make my own. One of the big reasons why I decided to get a new car in the first place was I had reached a point with my bugeye where I didn't want to spend any more money to modify it because I wasn't sure how long it would last before it needed serious repairs. Having a new car to play with has been a great joy so far.
The night I brought her home I ordered the first round of parts. Nothing fancy... RallyArmor Mudflaps, yellow Lamin-X foglight overlays, gunsmoke Lamin-X tail light overlays.
Then came the first mod: Debadging!
I've always been a big fan of debadged cars in general. I especially like how clean it looks on the GR Subarus. Alexa came with 5! badges on the back, including the dealer badge. Unfortunately, the only shot I have is this heavily cropped one from the day I got the car.
Way too much going on. With some help from my lovely girlfriend, the we cleaned up the rear end.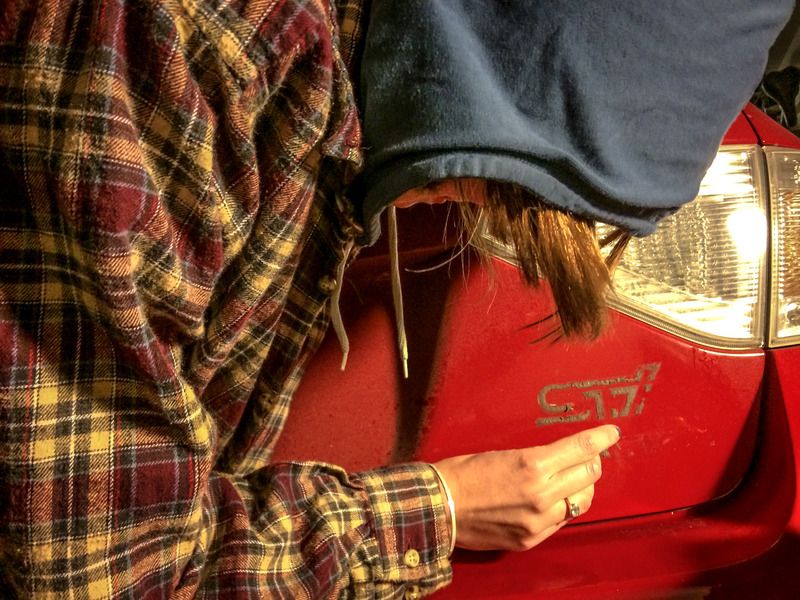 The mud flaps and overlays came in a couple days later. RallySportDirect is awesome. Maybe it's just because I live close to their warehouse, but I always get parts within a couple days of ordering. The mudflaps and overlays really added a lot to the exterior. I also added a set of OEM Subaru roof crossbars for my ski and bike racks.
Looking all pretty on a mountain pass near home.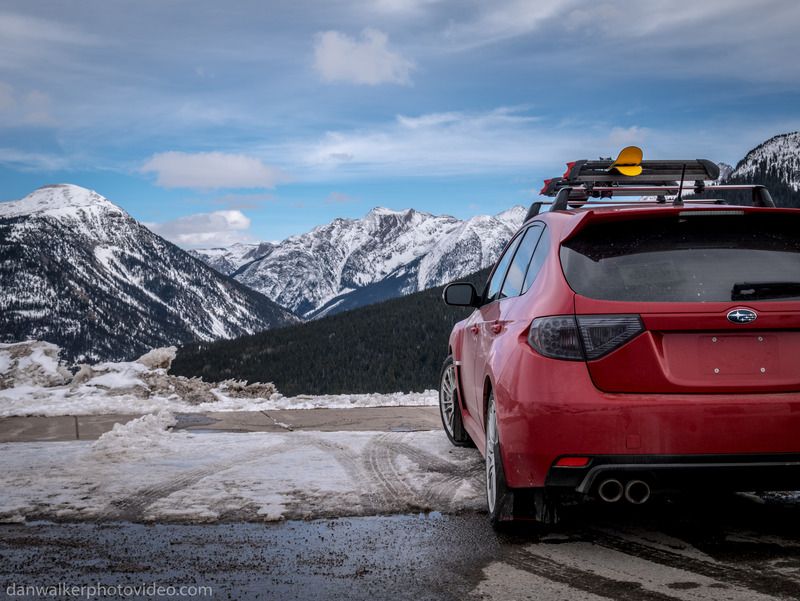 Normally, I'm not at all a fan of tinted taillights, but I saw a photo on RSD's page of a red hatch with these and decided to go for it. I'm still a bit on the fence on whether or not to keep them for the long term, but they do look pretty sweet.
Love the way the yellow fogs and the sport grill help clean up and set off the front of the car. I also plastidipped the fog light surrounds flat black. Looks much cleaner than the OEM silver.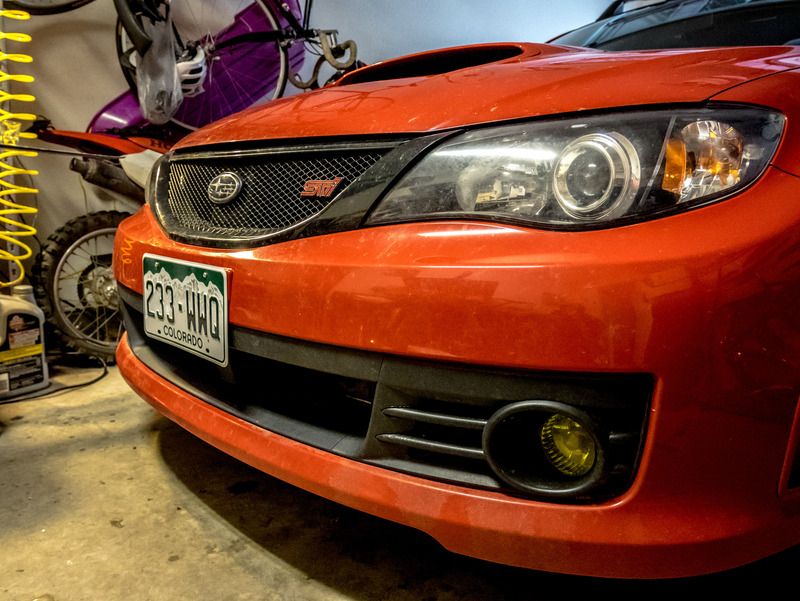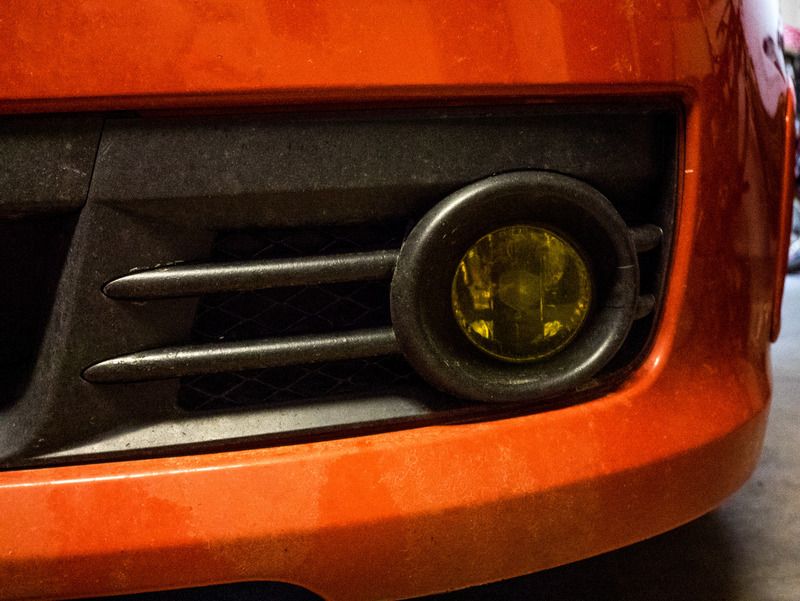 Also loving the colors on the front end after dark.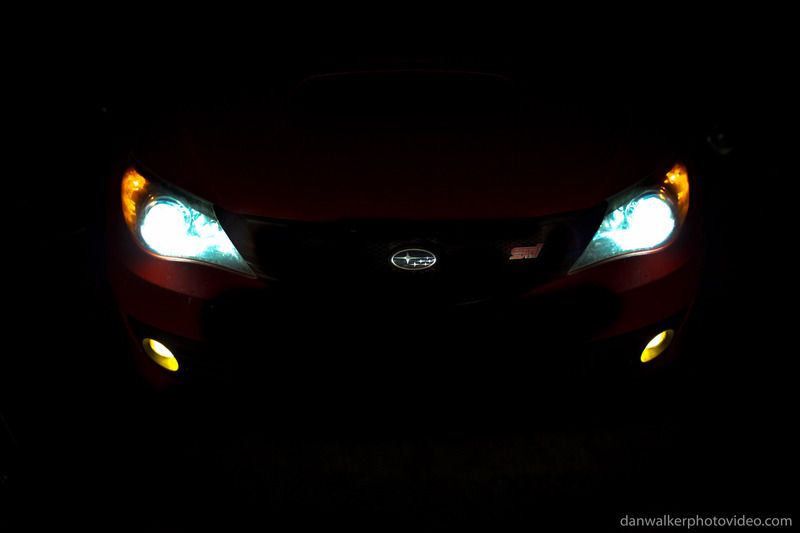 Glory shot during a particularly scenic Colorado sunset. Look for this shot to be posted on social media by Subaru of America in June as part of their Subarus and Sunsets theme.