Discussion Starter
·
#1
·
Hello guys! I just got my WRX last halloween, brand new with 7 miles on it.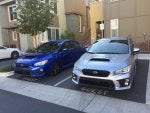 I dont know who owns that blue one though, just parked right next to it
It's really fun driving the car around my town, I am so much enjoying it but then one morning when I went the store to get my breakfast, then on my way back home the Check Engine Light came on with the cruise control light blinking. I stopped for a while and turned off the car thinking it might be a glitch and hoping it would go away, but nah.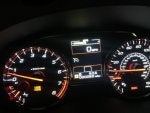 So I've been googling what could be the possible issue from loose gas cap to wiring which I'm not sure of, then proceeded to read the owner's manual and it says if you see CEL and cruise control blinking bring it to the dealership/service center as soon as possible and don't drive fast. Ok, I went to the dealer and the manager from the service center was shocked because its just been 60 miles and CEL came on so he went out to check the car and her proceeds to check the gas cap which is intact, never even open it because it has full tank. Now they just asked me to go to enterprise to get a rental vehicle with their expense of course but its been 3 days and I haven't heard anything from them yet like what is the diagnosis or status of the car, all they tell me is that the mechanic are still doing some testing and it is in progress. I'm getting annoyed on how they don't respond to me but when they do they just give me vague answers. Does anyone here had the same issue before?